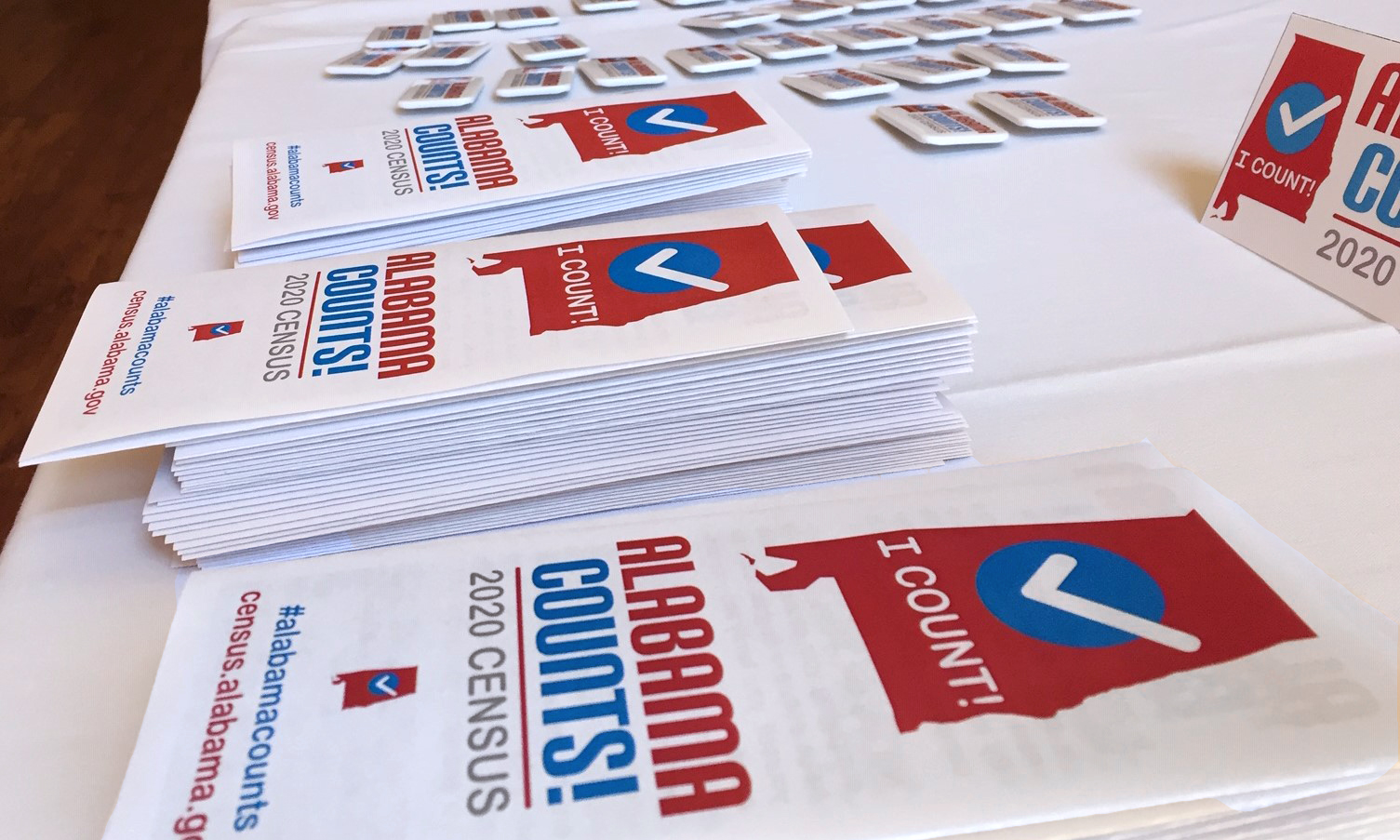 The Alabama Department of Economic and Community Affairs is administering a one-time 2020 Census Grant Program to support the accurate count of the Alabama Counts! 2020 Census campaign. The grant program was created through a $1 million appropriation as a part of the 2019-2020 Education Trust Fund.
Gov. Ivey announced the grant awards on Dec. 2, 2019. Read the news release here.
Complete details about the grant program are available in the Grant Program Overview and Guide:
Grant Program Overview and Guide (PDF)
Supporting materials for application
Alabama Counts 2020 Census Action Plan (PDF)
Alabama Census Low-Response by Census Tract map – (Click for PDF) (Click for Interactive Map)
Workshop
Census Grant Workshop Presentation (PDF)
Frequently Asked Questions
(Updated: Oct. 9, 2019)
Can I mail or hand deliver my application and supporting documents?
Only applications and supporting documents sent electronically to icount@census.alabama.gov by 5 p.m. central on Friday, October 11 will be accepted. You may send the files in separate email messages if needed. You will receive a response from ADECA confirming receipt of materials.
What types of activities are you looking for in the application?
This application guide covers the specifics. In general, we are looking for creative ideas to increase participation in the 2020 Census particularly collaborative efforts that reach hard-to-count areas or populations.
How do I find partners to collaborate with in my grant application?
We leave that up to the grant applicants to develop and present their partnerships as part of the grant application. There are numerous local, regional and state organizations that could be potential partners.
With that said, the Alabama Public Library Service has stated that they are willing to serve as a partner. For more information, visit the organization's website at https://aplsws1.apls.state.al.us/aplsnew/ or contact Nancy Pack at npack@apls.state.al.us. Another possible resource that was mentioned in our grant application workshop is YMCAs.
How do I locate and list census tracts in my application?
Please include a list of census tract areas that your proposed project will cover as part of the supporting documents. A community may encompass more than one tract and a regional area will certainly cover multiple tracts. The best resource to use to get tract numbers is our interactive map of census tracts, available at http://adecagis.alabama.gov/lrs_app/. On this map you are able to zoom in to street details. You may also type in a place or address in the bar on the top right to zoom to a specific location. Once you find the area, click on the map to open details about the census tract. The tract number will be the first item listed.
How do I determine the hourly rate for volunteers that I plan to claim as part of the match requirement?
Possibly, but it depends on how the food fits into your overall plan as presented in your project narrative and budget. The main goal of anything associated with your application should be to get Alabamians to participate in the census, including completing a census form at any event you plan to host.
Do you have preferred format for a budget?
Something itemized, clear and easy to understand is key. We need to understand what will be covered by the matching funds or in-kind services and what you are requesting be covered by the grant.
If I am a regional or statewide agency, do I need to list local contacts for the census tracts that include on my application?
You should include as part of your application a clear connection with the local areas that are included in your tract list. A list of local contacts and letters of support from local leaders are great ways to demonstrate local support for your proposed project.
Can expenditures or in-kind services provided prior to September 1, 2019 count toward the matching requirement?
Expenditures or in-kind services provided for census awareness and outreach activities before September 1, 2019 are ineligible to count toward the matching requirement.
May we apply for funds purchase equipment like iPads and laptops?
As with food, it depends on how the equipment fits into your overall plan as presented in your project narrative and in your budget. Equipment should not be the main focus of your proposal, it should supplement ideas, events and activities to get Alabamians to participate in the census.
What are the final reporting requirements?
You will be required to submit a final report detailing your expenditures, activities and accomplishments by August 1, 2020. While the reporting requirements will be specified in the Grant Agreement, in general this report will need to demonstrate responsible use of grant funds as well as the measurable impact of your program in increasing census participation among your targeted groups and areas.
Has the grant application deadline been extended?
No, the deadline remains 5 p.m. central time on Friday, Oct. 11, 2019. Applications and supporting materials must be emailed to icount@census.alabama.gov by the deadline in order to be considered for funding. Incomplete applications or applications with missing supporting documents will not be considered for funding. The only exception is the documentation of commitment for matching funds which must be provided no later than Nov. 8, 2019.
If I am applying from a governmental agency or public school or university, am I required to submit all of the supporting documentation listed on the application?
Everything listed on the application form is required for governmental agencies or public educational institutions except Form 990, which is an IRS form filed by tax-exempt nonprofit agencies. This document is required for nonprofit groups applying for a grant. Please be certain to submit all supporting documents and your application by 5 p.m. central time on Friday, Oct. 11, 2019. The only exception to the Oct. 11 deadline is documentation of commitment for matching funds which must be provided no later than Nov. 8, 2019.
If a grant recipient has unspent/unencumbered grant funds on June 1, 2020 project completion deadline, can the recipient request an extension to spend remaining funds?
It is ADECA's expectation that all projects will be closed by the deadline in the grant agreement. Currently, an extension process is not being considered.
If an agency or group applying for a grant cannot obtain a letter of support from a partner by Oct. 11, are there other acceptable ways to document or confirm a partnership?
Partnerships can be documented through letters, resolutions, proclamations, memorandums of understanding, or other similar documents. Regardless of the format, the document should indicate a specific contribution(s) the entity intends to make to the project in the form of funds, resources, or activities.